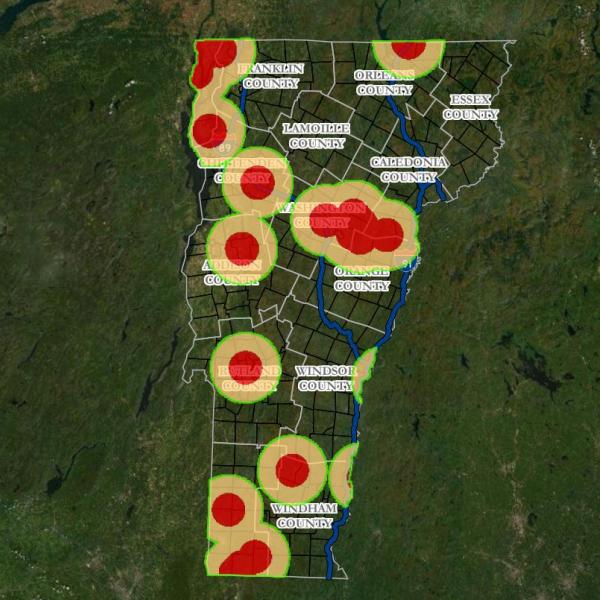 There have been new detections of EAB in VT: one in Richmond, VT, the first confirmed detection in Chittenden County and another detection in Shaftsbury VT, expanding the infested area in Bennington County.
The mapped area in Vermont to which "Slow-the-Spread" recommendations apply now extends to include the towns listed below in the following Confirmed Infested Area and High Risk Area.
Confirmed Infested Areas are within 5 miles of a known infestation. While symptoms may not be obvious, EAB is likely to be present in much of this area. High Risk Areas extend 5 miles from the outer edge of a Confirmed Infested Area. EAB is likely expanding into and present in some of this area.
New Towns in the Confirmed Infested Area
Arlington

Bolton

Essex

Glastenbury

Hinesburg

Huntington

Jericho

Richmond

Shaftsbury

Shelburne

South Burlington

Sunderland

Williston
New Towns in the High Risk Area
Manchester

Sandgate

St. George

Stowe

Underhill
Forest landowners, homeowners, logging contractors, municipalities, and utilities in the infested area should evaluate the options available to them to protect their ash trees and immediately implement Vermont's "Slow the Spread" recommendations.
Non-flight Season Started October 1st
October 1st was the beginning of EAB's non-flight season and the start of the least risky time to move ash materials from the infested area according to the "Slow the Spread" recommendations. Follow "Slow the Spread" recommendations to help protect uninfested forests and to give time to landowners, communities, and businesses to plan and budget for the arrival of EAB. Visit VTinvasives.org to learn more about EAB and what you can do to "Slow the Spread."
Map of Infested Area
View a larger map or download a PDF map of the infested area.
Related Invasives