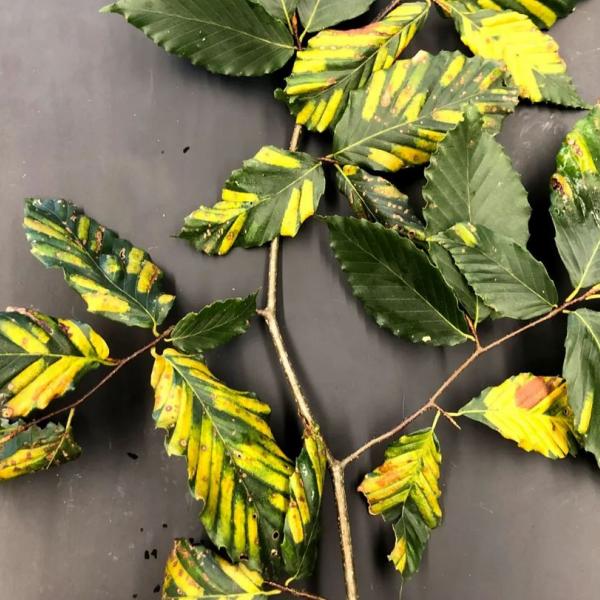 Vernon, VT - Beech leaf disease (BLD), caused by the invasive nematode or roundworm Litylenchus crenatae mccannii, has been confirmed for the first time in Vermont. After receiving a report of potential BLD in southeastern Vermont, staff from the Forest Health program of the Department of Forests, Parks, and Recreation (FPR) collected symptomatic leaves from American beech (Fagus grandifolia) saplings. Samples were sent to a US Department of Agriculture Forest Service Laboratory for DNA confirmation in early October 2023, and BLD has now been officially confirmed within the state.
This invasive species has currently been reported in 14 states, and Ontario, Canada. The most recent reports are in Vermont (2023), Maryland (2023), New Hampshire (2022), Maine (2021), Massachusetts (2020) and Rhode Island (2020).
The invasive nematode that causes BLD is native to Japan, and it negatively affects all native and ornamental beech species by causing leaf deformation, dieback, and mortality of infested hosts. In early stages of infection, beech leaves begin to develop a thick striping pattern between leaf veins, which can sometimes coincide with chlorosis (yellowing). In severe infestations, the striping area has been observed as slightly raised and thicker than normal tissue, which will lead to leaf deformation, premature leaf-drop, and dieback. In younger trees, disease progression can be rapid which in turn leads to high mortality of saplings and understory beech.
At this time, it is unknown how BLD moves across the landscape or how this pest can be managed, and there is no known cure. Staff from FPR will be looking for additional signs and symptoms of BLD this fall and throughout the 2024 growing season to better understand the extent of BLD in Vermont. Currently BLD has only been confirmed in Vernon, VT in Windham County. 
Forest health specialists need the public's help in identifying additional areas impacted by BLD. For more information or to report a sighting, visit VTinvasives.org.
Related Invasives