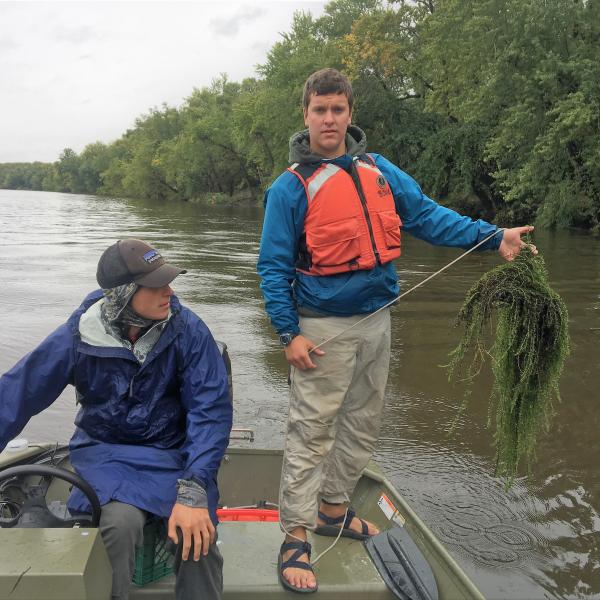 Considered by many to be the number one worst aquatic invasive plant species, Hydrilla verticillata has continued its slow, lurking approach towards Vermont. It is categorized as the worst due to its rapid growth, ability to overwinter, outcompete, and morph into different strains throughout the nation. As is true for most aquatic invasive species, once a body of water is infested, control efforts are costly and necessary for years, and eradication is virtually impossible.
Discovered in the neighboring states of New York, Massachusetts, Maine, and Connecticut, the Vermont Department of Environmental Conservation (VTDEC) Aquatic Invasive Species Program staff continues their vigilance to thwart Hydrilla's introduction into Vermont waters.
This fall, VTDEC staff joined state biologists from Connecticut, Massachusetts, and New Hampshire to survey sections of the Connecticut River in Connecticut where a new infestation of Hydrilla was found in 2017. An Early Detection and Rapid Response (EDRR) is the best method to reduce the threat and expansion of an invasive species, and for this species it was all hands-on deck to survey the extent of the infestation.  
Day two of the Connecticut River survey and a hundred rake tosses later, from the flooded depths of the river, an entire rake sample was covered with the dreaded perennial, five-leaf whorled Hydrilla. Most similar to the native and common three-leaf whorled Elodea canadensis, this invasive growth seems to have no limits. During its growing season, the plant has been documented to grow an inch per day, can grow from fragments, in the dark, and by shoots and roots. 
While an additional survey on the Connecticut River within the boundaries of VT and NH revealed no findings, VTDEC and other partners will continue to survey annually. Citizen scientists are also asked to keep a watch out for this number one threat and report any suspicious plants. More information about this threat and other aquatic invasives can be found on the Gallery of Invaders VTDEC webpage.