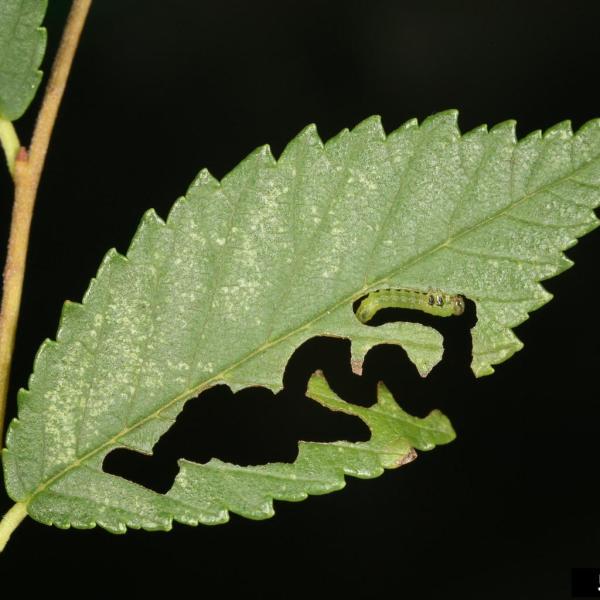 News Source
The invasive insect known as Elm zigzag sawfly (Aproceros leucopoda; EZS) has been confirmed for the first time in Vermont. After receiving a report of potential EZS activity in northwestern Vermont, staff from both the Forest Health program of the Department of Forests, Parks, and Recreation (FPR) and Plant Health program of the Agency of Agriculture, Food, and Markets (AAFM), collected larval samples from affected elm foliage in May 2023.  Samples were sent to the US Department of Agriculture Plant Protection and Quarantine program for identification, and EZS has now been officially confirmed within the state. 
Elm zigzag sawfly is native to east Asia, and feeds on multiple elm (Ulmus) species in, as the name implies, a zigzag pattern on leaves. When present in high numbers, full defoliation of elm trees can occur, and repeated years of defoliation could lead to crown dieback and/or tree mortality. EZS is a relatively new invasive pest to North America, having arrived in Quebec in 2020.  As such, little is known about the management of the species, but small populations can be removed by hand. Pesticide application has been effective in controlling larvae in other countries. However, the pesticides available for use in these countries are not specific to EZS larvae and will likely have significant effects on other invertebrates inhabiting elm trees.
Initial confirmation came from samples located in the Missisquoi National Wildlife Refuge in Swanton, Vermont. Since then, additional evidence of feeding has been noted in Alburg, North Hero, and Milton.
Staff from FPR and AAFM will be looking for additional signs and symptoms of EZS in the coming months to better understand the extent of EZS in Vermont. Additional information on EZS can be found online at Vermont Invasives.
If you think you've found an invasive insect, please report it at VTInvasives.org. The sooner we find new infestations, the better our chances of slowing its spread to other trees nearby or to other areas, and of eradicating it where it has been detected.
Related Invasives