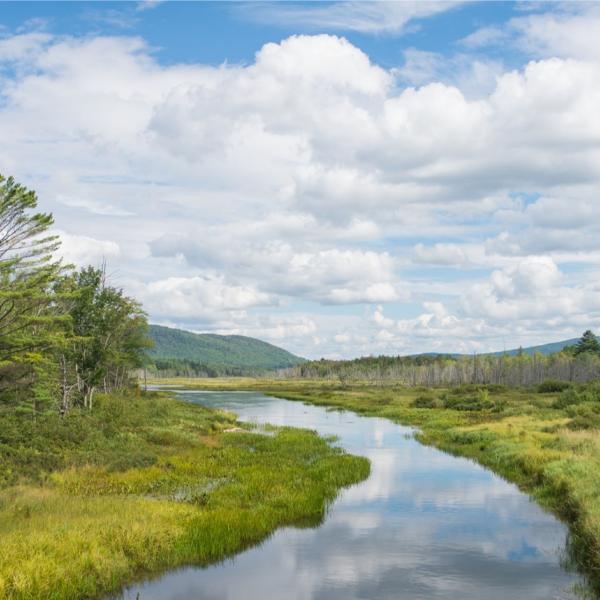 News Source
The 2018 Vermont Habitat Stamp Annual Report, released earlier this winter, highlights the conservation power of the multiplier effect – where one action can be a catalyst for other actions and the effects keep radiating out. This past year, over $110,000 were raised from donations and were then used to leverage an additional $143,000 in federal funds. This created a total reserve of over $253,000 to be used for habitat conservation by the Vermont Department of Fish and Wildlife.
Habitat loss, through destruction, fragmentation, or degradation, is the primary threat to the survival of wildlife in the United States. Using support from the Habitat Stamp, department biologists have been able to work on addressing some of these issues on both public and private land in Vermont by working with landowners to enhance habitat in priority wildlife corridors, improving fish passage at problem culverts in trout streams, and expanding and creating new Wildlife Management Areas, placing valuable wildlife habitat under permanent protection.
Multiple partnerships were utilized in 2018 with support of Habitat Stamp funds to improve wildlife habitat.  The Vermont Youth Conservation Corps worked directly with state wildlife biologists on the newly acquired Windsor Grasslands Wildlife Management Area to remove invasive plants and replace them with a mix of native, wildlife-friendly trees and shrubs. Along the White and Winooski Rivers, department staff planted trees in partnership with local watershed groups and 400 school kids along priority shorelines. And professional conservationists from across Vermont gathered together to discuss Vermont Conservation Design, the Fish & Wildlife Department's statewide habitat conservation strategy.
While 2018 was an incredible year for habitat conservation using Habitat Stamp funds, it is right in line with the previous years of donations. In three years, the Vermont Habitat Stamp has contributed to the direct conservation of 3,200 acres of land, the restoration of streams and rivers, and the removal of dysfunctional dams for fish passage. The success of the Habitat Stamp Program is a testament to how those living and playing Vermont value wildlife and public land conservation.
The 2018 Vermont Habitat Stamp Annual Report can be found here: 2018 Vermont Habitat Stamp Report.
Individuals interested in helping protect Vermont's conservancy legacy can buy a 2019 habitat stamp here:  2019 Vermont Habitat Stamp. 
To learn more about Vermont Conservation Design, visit: Vermont Conservation Design.
Thank you for your continued support!
Photo Credit: Tom Rogers, Clyde River Wildlife Management Area